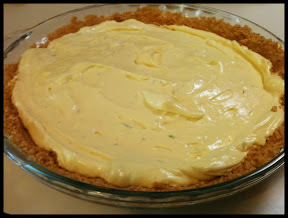 Right now I have this baking in my oven!
2 pkg. 8 oz each cheese cheese , softened
1/2 cup sugar
2 Tbsp fresh lime juic
1 tsp grated lime peel
1/2 tsp vanilla
2 eggs
1 cup Graham cracker crumbs
3 Tbsp sugar
3 tbsp butter, melted
Mix the crumbs, sugar & butter, press onto bottom of pie plate.
Mix cream cheese, sugar, juice, peel and vanilla. Mix well on medium speed until well blended. Add eggs; mix until blended.
Pour into crust.
Bake at 350•F for 35-40 minutes or until center is almost set. Cool. Refrigerate 3 hours or overnight.
Makes 8 servings.