Cheese burger pockets!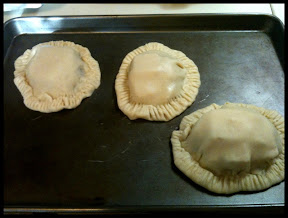 I didn't follow any recipe just did my own thing.
Ingredients
I pastry crust: recipe below
1 lb ground beef
Half onion
1 garlic clove
5 dashes of pepper
5 shakes of garlic salt
4 shakes of garlic powder
4 shakes of garlic powder
Block of cheddar cheese
Ketchup
Serves 3 Or you could make them into smaller portions.
Preheat your oven to 350
I fried my meat & drain the oil off it. I like to season my meat very well! Gotta have flavor!! After I seasoned my meat, I added in the onions & garlic clove. I let it all simmer for about 10 minutes.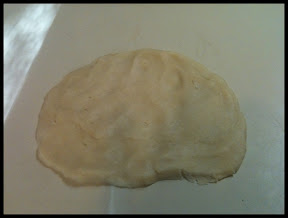 I rolled our my pastry dough into medium circles. I put a good spoonful of the meat & two squirts of ketchup on top, follow by a few slices if cheese.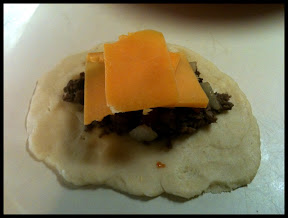 Then I rolled out the top crust, applied it on top the meat & pinch the edged with a fork!
Pastry crust
1 1/4 cup flour
1/4 tsp salt
1/2 cup cold butter- sliced
1/4 cup cold butter
Combine flour, salt, butter in food processor using steel blade. Pulse few times, them pour water in while running on low to medium speed. Shut off food processor as dough forms a ball around blade.
I plan on changing these up, maybe doing a pizza one or chicken Parm one!