Have a pair of boy flip flops & want to make them girly? I tell you it's very easy!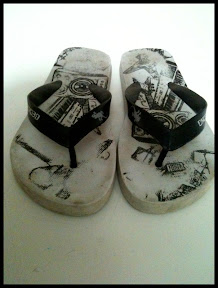 I took black ribbon & hot glued it around the straps. Then I made flowers out of the same color ribbon & secured them on good.
Then I took black acrylic paint & painted the bottom of the flip flops.

Then after it dried, I applied a thick coat of mod podge! Love this stuff! You can do amazing things with it!

Of course you have to add some bling to it right?!?!

There you have it! From boyish to girly!