I came across this idea on moneysavingmom.com & had to do it!
I collected sme toilet paper & paper towel rolls.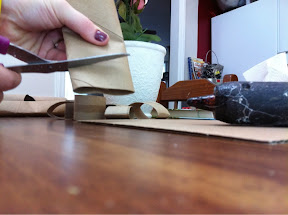 Once I had enough, I started cutting mine up.
Once I had them all cut up, I assembled my flowers with hot glued.
After that I ended up spray painting mine to make it faster but...
*Warning* it takes a good 3 coats because the cardboard soaks up so much paint.
Once mine dried, I hot glued mind to a canvas. I did mine on a smaller canvas since that's all I had on hand.
There is my wall art made from toilet & paper towel rolls!! I plan on making some more but a different color!
*If you under a warning for this hurricane irrene, make sure you stay safe!* Have a safe & fun weekend!