It's that time again for some more DIY! Have an old peice of furniture that needs a facelift? Well all you need is a few cans of spray paint & it cost you practically nothing!!
For example:
Before~
After~
Before~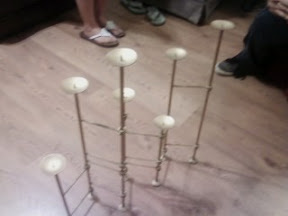 After~
The crate to the left use to be my Dad's. It's hard to believe that it is actually older than me! I spray painted it & also the mini crates on the right!
These candle holders I found at our local dollar store. They use to be black!
Now this table & chairs I found at a local thrift store that was shutting down! Of course I spray painted them & looks brand spranking new!! I've been asked if I bought them at pottery barn! Um nope!
This dresser & book case use to be an oak color.
A friend of ours gave me these plastic flowers that look like they were once spray painted. I decided to spray them again.
They were once gold but I painted them light pink & dark pink.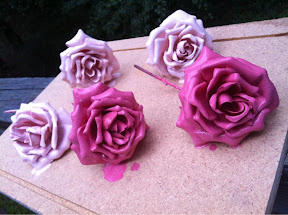 Just a note!!
Now I wouldn't recommend spray painting if your pregnant! Also always let it sit out in the sun for at-least 3 days so that the fumes can air out!! Very important to do this step because how toxic the fumes can be.